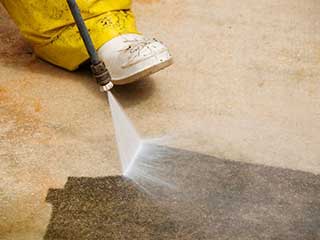 It is true that tile floors are easy to maintain, but this doesn't mean that there is no effort involved. You should know that most types of tiles are porous. This means that they accumulate a considerable amount of dirt, even though the signs may not show immediately. So how do you approach tile floor cleaning? Here is a method which works perfectly.
Perfect Results without Wasting Time
Start with vacuuming the floor to remove dust and dirt lying on it. It's important to adjust the vacuum for the bare floor. You should use the crevice tool to clean corners. If you can see bigger debris pieces, you may sweep it first. Similarly, it is best to pick up per hair with a brush designed for the purpose.
Once the floor is ready for the actual tile cleaning, you need to prepare the water solution. It is up to you to choose the cleaner and the level of concentration. The product must be safe for the specific type of tile which you have. Generally, the eco-friendly products are among the best options available.
Apply the solution with clean chamois mop. Sponge mops aren't that effective. It's important rub the floor vigorously instead of just wiping it. At the same time, you should make passes instead of using circular motion. You may want to let the solution do its job for a minute or too. Just make sure that there are no puddles formed on the floor. This will help for deeper grout cleaning as well.
Rinse the mop first and then pour fresh warm water into the bucket. Make several passes over each section of the floor to ensure that it is properly rinsed. Without proper rinsing, you may have to go for a special stain removal procedure in the end. Natural drying is not recommended for most types of tile. Use microfiber cloth to finish the job.