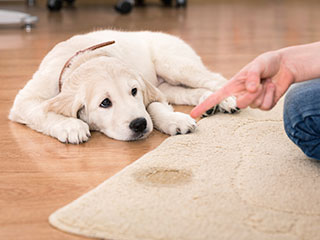 Birds are beautiful and majestic pets. But they sure can create one heck of a mess! It's common for bird owners to be spending most of theirs days emptying trays, scrubbing out stains and spraying air fresheners like nobody's business.
Removing Pet Bird Stains & Odors
Cages are easy to clean, they're' not normally the problem. But birds need space just like dogs and cats do. We all love letting our cockatoos out around the house for a bit of air time, but this can come with some pretty messy consequences.
The couch, the carpet and any other fabric item for that matter, can all be used as target practice. Every "bombing run" can mean hours of scrubbing, spraying and airing your favorite upholstery.
Stains are one thing, but odors are another. There's only so much a plugin air freshener can cover up. Having a bird always makes you wonder, how it is possible for such a small animal to produce so much waste?
Take Advantage of Our Stain Removal Service
For the stains, our expert upholstery cleaners can shampoo and steam areas of carpet or fabric with specialist solutions. Odors will linger as long as there is bacteria left in your surfaces. So after an intense clean of your carpets and furniture, a decontamination and air purification within your rooms can begin.
The dirt is then completely removed with minimal damage to your items. Only after this process will the strongest smells can be completely eliminated. That is until the birds are let out to play again. Count on our carpet cleaning experts to help you remove any stain off of any surface!