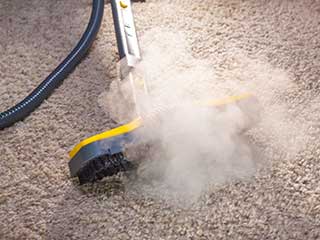 With five different methods out there, how does a homeowner decide which will be the best carpet cleaning method for their home? Fortunately, for home use, there are really four methods each with their own drawbacks or benefits. Some will ultimately be better than others and when considering the right one, it can be narrowed down further to one of two deep clean methods.
The Top Five
Of the five carpet cleaning methods, three are not well suited for the purpose of deep home cleaning. Since the purpose of a deep clean is to go beyond the surface carpet maintenance, the shampoo method and the foam encapsulation will not serve as well. Shampoo can damage the carpet with its optical brighteners as well, which is why it has fallen out of favor in recent decades. Foam encapsulation simply lacks the same level of technology for drawing out deep dirt. The bonnet method is better suited for commercial carpet cleaning than for residential carpet cleaning because it involves large machinery and only provides a surface clean.
The Top Two
Between the two remaining deep clean methods for the home, steam cleaning and dry cleaning have complimentary advantages and disadvantages. Steam cleaning relies upon hot water and water extraction to first shoot streams of hot water at high pressures through the carpet. The water pushes out the dirt and leaves the carpet very clean at even the lowest levels. However, it requires a lot of drying time in order to keep the carpet safe from accidental mold damage. So when using this method either the homeowner or the company need to be careful about the amount of water used, and take the time to ensure that the carpet is properly dried afterwards.
Dry cleaning requires that the owner or company spread a sort of powder over the carpet and allow it to sit for a designated period of time. This will attract the dirt and pull it out of the low fibers. When enough time has passed, you run a vacuum over the power and suck up both the powder and the dirt. Its benefits are that it is easy to do and will not require nearly as much water as the steam cleaning. Therefore, many people like to use this method more than others, especially if they are going to do the job themselves.
The Conclusion
Carpet cleaning is an important task to keep the floors looking neat and free of dirt for longer. For this reason, it is just as important to choose the method which will suit a person the best, and remove as much dirt as possible. For further advice and information, feel free to contact our Carpet Cleaning Moorpark professionals.